Non Fiction Books about City Life
Item request has been placed!
×
Item request cannot be made.
×
Processing Request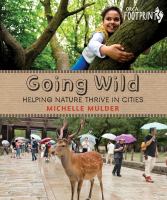 Going Wild: Helping Nature Thrive in Cities by Michelle Mulder - Humans aren't the only ones who live in cities! This book is part history of how humans and animals have lived side by side in urban environments and part survey of how people across the world today still share their space with animals. It also includes tips for safe interaction with wildlife in your area!
Chasing Bats and Tracking Rats by Cylita Guy - Another book about animals in cities this one focuses on the scientists who study and take care of the wild critters who live near us. If you want to learn about bat populations and careers in urban ecology, this is the tome for you!
How Was That Built? by Roma Agrawal - One of the best things about cities is all the cool architecture! This book is a history of structures from cities worldwide, with plenty of information about the construction techniques used to build and repair them. 
City Streets are for People by Andrea Curtis - How do we get around our cities? There are cars, of course, but what about buses? Trains? Bikes? Our own feet? This marvelous introduction to urban planning and public transit asks readers to imagine what life might be like in a city built for people rather than cars.
The Young Cyclist's Companion by Peter Drinkell - If thinking about transit has you itching to go for a bike ride, this book has everything you need to know about bike mechanics, repair, safety, and fun! You'll be a free-wheeling urban biking expert in no time.